Here is the list of the better mouse for video and photoshop editors, in 2022.
If you are producing any kind of content, particularly video-based, then integrating a quality mouse is definitely a must as it can elevate your workflow and make you stand out from the competition
On a daily basis, no doubt that there are loads of tools out there that people are using to speed up their workflows and make them more efficient.
However, whether or not you are editing on Adobe Premiere Pro or finalizing your clip in DaVinci Resolve, you will find out that there are small tweaks that you can make to your workflow to speed it up even further.
These adjustments may be as minimal as changing the setup or using professional gear altogether.
Our top picks mice for video and photo editing tasks
Scroll down to see the full review of every product, so you make sure to purchase mouse suitable for the job.
Believe it or not, you are going to be constantly using those keyboard shortcuts to streamline that editing process, whether in terms of photos or videos, so investing in quality components seems a wise decision.
Now when talking about PC accessories, one of the things that are often overlooked is the mouse itself. When you are editing your clips, you are using your mouse constantly, and every little click and every little movement will ultimately determine your success in the long run.
That's why we present you our picks for the 5 best mice for video editing in 2022. They range from price to performance, so you can decide which fits you the best. So, without delay, let's take a closer look at them!
KEY FEATURES
·       Best editing mouse that professionals recommend
·       Equipped with up to 7 programmable buttons
·       A highly precise unit that operates under 4000dpi
·       Ergonomic design with ultra-quiet magnetic scroll wheel
·       Compatible with many app-specific profiles
When you Google the best mouse for video editing in 2021, one of the options that immediately come up on your screen will be none other than the Logitech MX Master 3.
It's a professional-looking mouse that is the number one choice for video and photo editors out there.
From price to high-end features and added comfort, it has it all covered.
Seriously, if you are looking to make professional-grade videos then you can't go wrong picking the MX Master 3. Right off the bat, its design is carefully engineered with professional use in mind.
The rounded shape works wonders with the silhouette craft that will make you comfortable even after long hours of use.
Besides that, you will be amazed by the wealth of shortcuts you can set up on this beauty.
As expected, each of its buttons is individually programmable within Logitech options, which is a companion utility for the mouse.
You can set up shortcuts that are system-specific or used by Editing apps individually.
Another great thing about it is the fact that it's backed by a Keystroke assignment tool. Now you can set up any custom shortcut with ease.
The reason why it's fancy among editors of all choice is because of its intuitive scroll wheel.
Logitech defines this unit as the smart-speed adaptive scroll wheel, which makes scrolling through long documents and navigating your timeline effortless.
In MX Master 3, you will also be given the option to connect three devices simultaneously. This is great for individuals who are into multi-tasking.
Although the access button is located on the bottom, it's not always that easy to swap between devices.
Moving on to additional notable features, it's equipped with darkfield laser tracking, which allows you to use it on pretty much any surface, including glass.
Being a wireless photoshop editing, you will also have the option to recharge it instantly.
This feature is quite useful, especially if you're constantly traveling.
| | |
| --- | --- |
|               PROS |                     CONS |
| Ultra-fast scrolling wheel | Not ideal for left-handed users |
| Among top-rated keyboard and mouse for video editing | A bit costly as compared to previous models |
| It comes with cross-platform support |   |
KEY FEATURES
·       Top-end wireless mouse for photoshop editing
·       15 fully programmable buttons, including six thumb controls
·       Operates under Hero 25K sensor
·       Enabled with up to 240-hour battery life
·       A hyper-fast fully metallic scroll wheel
There is no doubt that Logitech is known for making some incredible gaming mice, especially over the last few years.
However, one of their models which fits the needs of both gamers and video editors is none other than the G604 LIGHTSPEED.
Coming at just $100, it's a relatively premium option on the market.
What's interesting is that it maintains simple aesthetics as compared to your regular gaming mice and has some cool features right off the bat.
The Logitech G604 LIGHTSPEED picks up an ergonomic design, with slightly rubberized textures at the backend to provide you a better grip.
Other than a quality design, it has a solid metal wheel with the ability to tilt scroll without any issue.
You definitely want this in your keyboard and mouse for video editing, as it saves you time on the raw clips.
You will also praise its Hero 25K sensor, which is quite responsive in editing tasks.
It operates under Logitech's lightspeed technology that offers you up to 1milisecnd of response times that is a deal-breaker in MMORPGs.
On top of that, according to Logitech, there is no filtering or smoothing, which was quite annoying back in its predecessors.
Now in terms of customizability, this best mouse for editing pc is quite packed with options. It offers a staggering 15 programmable buttons, which are fully functional with the G hub software.
Now you can change the shortcut inputs for each individual editing tool on the go.
There is even a built-in processor in this device which allows for better macro selection.
In addition to that, the G604 LIGHTSPEED can be connected via a USB-DONGLE or basic Bluetooth technology.
This means you will always have options in terms of connectivity.
When talking about wireless performance, this is the region where the G604 truly shines.
It uses double AA batteries, which give you up to 240-hours of action.
| | |
| --- | --- |
|               PROS |                     CONS |
| Quite loaded with customizable buttons | 15 input buttons are a bit overkill for video editors |
| Extremely responsive scroll wheel | It's a bit pricey |
| Dual-connectivity option |   |
KEY FEATURES
·       An ergonomically stable design with side rubber grips
·       Adjustable weight for balancing out the grip
·       Ten customizable buttons, including key, remaps
·       Comprised with industry-grade 18,000 DPI optical sensor
·       Accurate tracking and solid sensitivity
Corsair is another brand that is competing directly with Logitech in terms of PC accessories and their latest edition, i.e., the Nightsword is living proof of that.
So, if you are looking for the best mouse for editing in premiere without having to spend huge bucks, then this model is your ideal choice.
Corsair Nightsword is backed by a well-thought-out design and quality features that can be used for video editing without any doubt.
Besides that, it follows a decent chunk of programmability options, perfect for both beginners and professionals alike.
A quick glance at the Nightsword shows that it is mostly made out of plastic, but it does accompany a rubberized grip near the sides.
Its dimensions are far suited for individuals with larger hands, so keep that in mind in your buying decision.
With that out of the way, it has a super comfy thumb rest on the left side, which is ideal for those who aim to work long hours on their projects.
To provide your editing set up with some great visuals, this mouse also has RGB lighting near the scroll wheel, at the bottom, and near the base of the back.
Another notable feature within the Corsair Nightsword is the addition of a tunable weight system.
This will allow you to fine-tune the overall weight according to your needs and maximize your efficacy.
These weights are also quite easy to adjust, so you can kick start your editing journey without any delay.
In terms of programmable buttons, you will be getting ten different inputs that can be assigned to macros, key presses, or any other function you desire.
If somehow that's not to your liking, then you will definitely love the 18,000 DPI optical sensors.
Unlike regular mice for video editing in 2021, this will give you extra precision as you edit your content in DaVinci Resolve.
Furthermore, it's far superior to any trackball mouse for video editing as motion detection ranges well within 400 IPS.
If Photo or video editing is something you want to archive, then you won't be disappointed with Corsair Nightsword.
| | |
| --- | --- |
|               PROS |                     CONS |
| Equipped with ultra-accurate tracking | Unreliable location of profile change buttons |
| Ability to calibrate weight instantly | Poor lift-off distance |
| Highly durable Corsair switches |   |
KEY FEATURES
·       Amongst ergonomic keyboard and mouse for video editing
·       Simplistic design with a comfortable palm support
·       Performance-driven 4-way scroll wheel
·       Operates on multiple surfaces with BlueTrack Technology
·       One-touch smart access
When it comes to photo and video editing, one of the factors which truly come into play is no doubt the overall comfort of the given accessory.
You will be working for long hours on editing your media; that's why it's best to invest in equipment that is comfy to use and reduce any kind of aches and pains.
If that's the case, then you will definitely love this Ergonomic mouse from Microsoft.
It's the best budget mouse for video editing, so rest assured as you don't have to spend big bucks on your editing setup.
Besides that, it provides a minimalistic outlook which is extremely hard to find in those so-called "gaming-oriented mice."
So as discussed previously, one of the main selling points of Microsoft Sculpt is its intuitive yet professional design.
It's nicely laid out near the sides and has a tilt to the right angle, making it comfortable for your hands and palm even after long hours of usage.
Now, if you are a lefty, this construction might not work out for you, but other than that, it's an ideal mouse.
Moving to its features, you will get MicrosofTrack Technology which makes editing as precise as possible.
Its accuracy level might not be as solid as Logitech MX Master 3, but rest assured, as you won't have to face random misclicks while you're finalizing your project.
The mouse itself operates on dual AA batteries and supports a USB dongle connection.
This will give you further convenience as you won't be bound to any wired connection.
Setting up the Microsoft Sculpt is also quite convenient. Just plug it up with your system and flip on the automation switch—no need to download any third-party software or any tools to customize its functionality.
Furthermore, given the budget price tag, it will last quite a while. You can expect a year or so solid performance with this model.
| | |
| --- | --- |
|               PROS |                     CONS |
| Ergonomic shape to maintain natural wrist position | It's not the best mouse for video editing on a mac |
| Three over the top input buttons | Lack of warranty |
| Equipped with Smart access |   |
KEY FEATURES
·       Ergonomically vertical mouse in affordable price
·       Enabled with wireless support and optical sensor
·       Up to 1600 fully customizable DPI
·       Built-in power saving mode with quick activation
·       Works under a wide range of surfaces
At number 5th position, we have Anker 2.4G wireless, which is another popular ergonomic mouse that comes in vertical construction.
If you want quality, convenience, and comfort in your editing projects, then I highly recommend this product.
Anker 2.4G even surpasses some high-end models from Logitech in terms of its performance, which means it can be a reliable option in a long time.
It's pretty packed from design to features, making it among the best accessories for professional work like editing.
At first glance, this wireless mouse for photoshop editing might seem a bit off-putting due to its odd construction.
However, it's in no way near uncomfortable. According to its manufacturers, this unique shape of Anker maintains the natural hand position and reduces strain on your wrist.
So, in the long run, its scientifically proven sleek design might benefit you.
Besides design, the Anker 2.4G Wireless is lined with quality features that separate it from the rest of the competition.
It boasts a wide range of DPI settings that is interchangeable on the go, meaning you can customize it to some extent.
In addition to that, this editing mouse follows optical tracking technology, which gradually ensures that its movement remains smooth and consistent.
Like Microsoft Sculpt, you can test this bad boy on a wide range of surfaces, and it won't disappoint.
Another cool thing about this product is the addition of next/previous buttons on the sides.
This will enable you to do quick internet surfing in case of any information for your next project.
Even its battery lasts quite long compared to other competitors thanks to a reliable power-saving mode that activates automatically after being idle for 8 minutes.
Unfortunately, it operates under 2xAA batteries, so they need to be changed, but rest assured that they won't deteriorate frequently.
Oh, and lastly, it is functional with a powerful 2.5GB USB receiver so that you won't have issues with connectivity.
| | |
| --- | --- |
|               PROS |                     CONS |
| A best budget ergonomic mouse for video editing | Its vertical design may not suit every editor |
| Interchangeable DPI with ideal tracking | Anker 2.4G lacks a durable body |
| Added buttons for web browsing |   |
What to look for In the Best Mouse for Video Editing In 2022?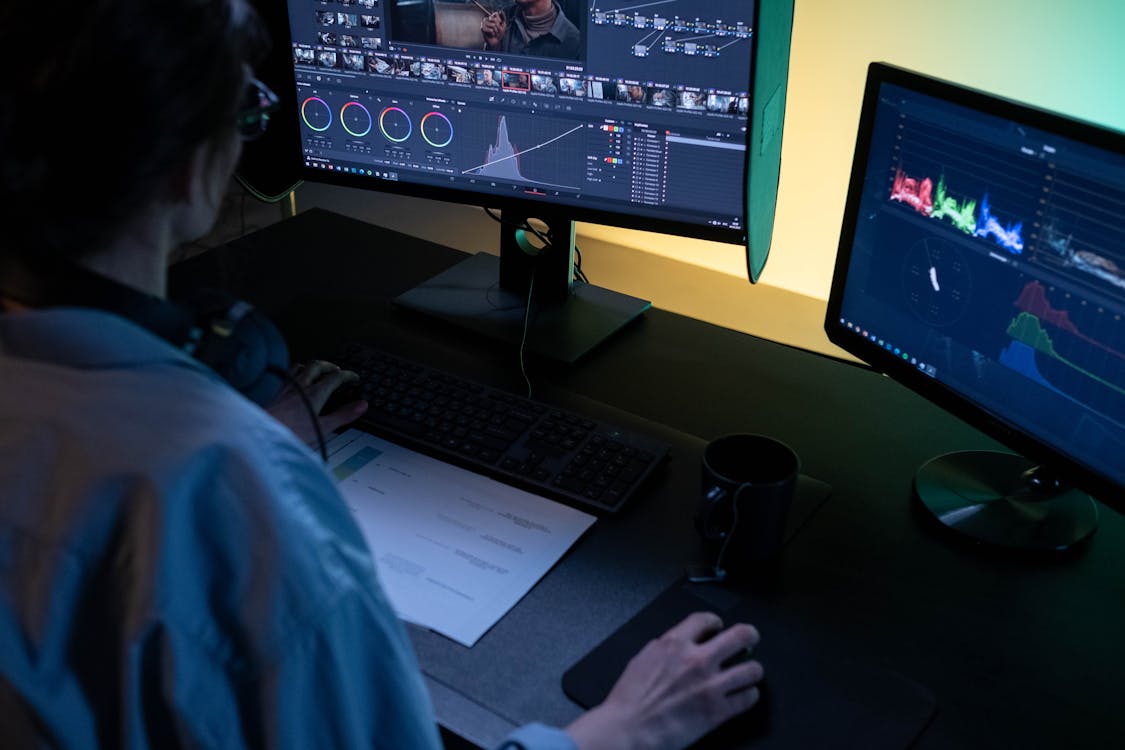 Now that we have covered the list of top-rated video editing mice, it's time to go through certain features or factors in each individual product.
They are not absolutely necessary in most cases, but it's still wise to check for them if you want added peace of mind in the near future. With that said, here are a couple of them;
DPI
When searching for the best mouse for editing in the premiere, one of the things that you should definitely consider is the DPI rating.
It is simplified as "Dots per inch," which is simply the measure of the physical distance of the mouse pointer in respect to your screen or display.
This means that for a 1980x1080p monitor, a DPI rating of 400-1000 will suffice.
The same could be said of a 4K display, but then you have to move your mouse 10 inches across the screen to cover it fully.
That's why we would advise you to look for a mouse with adjustable DPI options so you can synchronize it with your preferences.
Wired Vs. Wireless
Wired or wireless is a long debate, but to put it in simple terms, it depends on your personal preferences and editing setup.
Of course, a wireless mouse can provide you peace of mind as you won't have to worry about your cord tangling up frequently, but this doesn't mean that they are an absolute game-changer.
The majority of the wireless mouse for photoshop editing requires AA batteries to operate, which can be a bit of a hassle to change.
Even if you opt for a model with a separate charging dock, you are still at risk of inopportune time when your device annoyingly runs out of juice.
So, take a brief moment to consider your editing requirements before deciding on either a wired or wireless mouse.
Polling Rate
Another key factor that can possibly influence your editing performance is the Polling rate. In simpler terms, it defines the rate at which your mouse delivers input to your computer as you use it.
Now the measurement of polling rate is taken in Hertz, and the greater its number, the higher your accuracy will be. Although, take this info with a grain of salt as it might not be entirely true.
Anyway, gamers should aim for a polling rate of 500Hz or more, while for professional tasks like video and photo editing, anything lower than that is good to go.
Just make sure it's not too minimal when you're deciding your next best wireless mouse for photoshop editing.
CONCLUSION
All in all, these were some of our thoughts on the best mouse for video editing in 2021.
All these mice reviewed above were picked after hours of research and taking into account individual customer reviews from platforms like Amazon so that you could decide the best from the bunch.
Some of these mice will be gaming-oriented, but that doesn't mean you can't edit them.
These so-called gaming peripherals have dozens of premium features, and with a little bit of practice, you can utilize them in high-end editing software like Adobe or DaVinci. If you liked our picks, then make sure to check out our previous reviews.
Hopefully, some of them might please you!