The internet is flooded with crazy funny sites that are totally entertaining. And sites that are great ways to waste some time (oh I mean kill time) when you are bored. These sites are not only entertaining but also showcase the out of the box thinking, workmanship and pure genius of the designers and awesome developers from all over the world.
Surely you have your list of favorite sites that you like to browse through or give a few clicks to when you are free, but here is a list of 5 FUNNY SITES that are sure to cure any kind of you boredom. And promise to keep you engaged and busy for as long as you want ( I mean as long as you are free)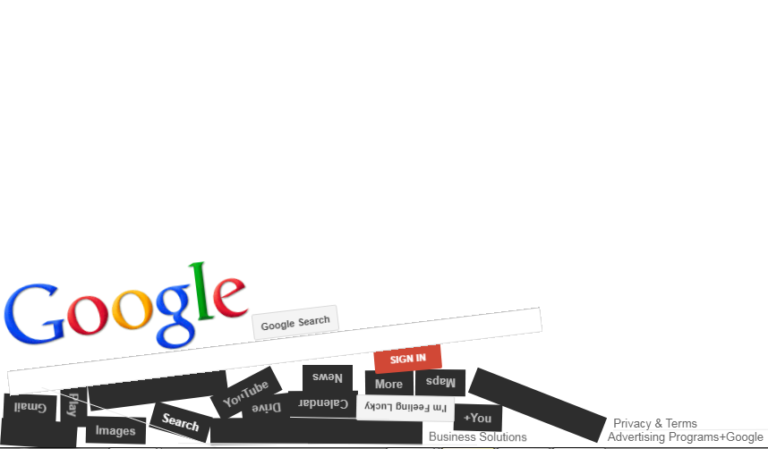 A fun site for someone who is a Google fan. Here you see the majestic Google search bar succumb to gravity. And it is quiet entertaining to see it all fall to bottom of the screen; the links, the images, the search bar and everything else. And what's even cooler is that you can actually still use the search bar. All the search results come crumbling down too. Go on try it out! It really re-defines search.
Bio-Bak
Bio-Bak is a bizarre creation by a mad designer for sure. This site is just awesome when it comes to pure design, planning, eye for detail, uniqueness and real hard work at play. It has voice overs, cool graphics and interactive activities and lots and lots more to keep you busy (and bug you a bit too) for hours on end.
Ok this is a crazy site with some real time-pass stuff to do. Including this wacko game where the user is actually supposed to pull out hair from someone's nose, (UGH!) with a pair of tweezers – complete with the sound effects of the victim. Surely it will gross a lot of you out. But well the idea is to kill some boredom isn't it.
Now imagine killing beans to kill boredom. That's exactly what this funny flash site makes you do. You are sure to get addicted to the mad bean action. And keep busy when you are bored, by the way the squashing isn't as easy in the higher levels of the game.
This incredibly cool -funny site lets the visitor create their own band. Sounds  crazy, try it out, make them play the instrument you like, look as weird or cool as you want and orchestrate them to play individually or together, or however else you like. It is sure to entertain you for hours on end. After all it is handpicked and customized music just for you.
Conclusion
Go on try them out, you will be awe struck with the mad fun they bring along.
These weirdly awesome sites could keep you busy for hours, but please do remember most of them are actually useless. So remember to browse them ONLY WHEN YOU ARE TOTALLY FREE.