Here are the very best laptops for python programming students
Programming languages have come a long way since their advent back in the early days, and Python is no exception to that.
Even being a simplistic approach to coding, you will require an explicit piece of hardware in order to learn all the Nitty-gritty of this computer language. Now when it comes to programming equipment, a laptop is a great choice for both seasoned professionals & beginners.
Our top picks at a glance-
A laptop to learn Python is lightweight and easily accessible, but it also gives the end-user added mobility.
You can carry it around anywhere you want and start improving your skill-set. Besides that, even a cheap laptop for python programming is equipped with a better keyboard and a powerful hard drive which is a game-changer for any coder.
Key Specifications
Running an 8

th

Gen Core i7 processor for powerful performance

Supports up to 16GB of DDR4 channel (2666MHz) RAM
256GB M. 2 Solid State Drive (SSD) that is PCIe compatible
A Great laptop for programming and game development with GTX 1050Ti
Laptops to run Python are available in a wide range of price points, but not a whole lot can deliver up to the standards for modern applications.
If that's the case, you will definitely love the first pick on our list, the Dell XPS 15. This beast of a laptop has gathered quite a lot of positive reviews across multiple platforms within a short amount of time.
And that is because of a number of reasons. For starters, it is using Intel's powerful 8th gen i7 CPUs to provide exceptional speed as you compile large libraries of code.
Solid design & Robust Display
It features an amazing design with a solid build that will remain relevant in the near future. Like most durable laptops, it offers a fully aluminum chassis rather than a plastic one, providing additional resistance against wear and tear.
Even the webcam is placed ergonomically so that you won't have any issues during your team meetings.
The Dell XP boasts a 15.6inch full 4K Ultra HD display to share crystal clear images. Now you won't have any issues related to eye strain as the screen is IPS compatible and supports infinity-edge technology.  
Interactive Features & Hardware
The addition of Nvidia's GeForce GTX 1050Ti graphic processor works wonders in the case of python developers.
You will also get up to 16GB dual channeled system memory which is more than enough to tackle Python-related packages.
Another cool thing is the fast-paced boot-times which you will receive thanks to 256GB of M.2 SSD.
It's the latest innovation among in the laptops, so you can rest assured about its use case. Dell has provided it with a fingerprint reader as well, for users in need of a bit of versatility.
| | |
| --- | --- |
|                   PROS |                      CONS |
| It can be used as a dell laptop for programming and gaming | Customers complain about its bloated trackpad |
| A high-resolution IPS display | Not a cheap laptop for python coding   |
| Solid built & a portable design | Lacks battery performance |
Key Specifications
A 13inch retina eye display to capture even the faintest lines of code

The new & improved silicon M1 chips make it the ideal laptop to run Python
Equipped with 256GB SSD Storage for seamless boot-time
Backlit compatible keyboard with multi-coated interface
It has all the bells and whistles which you will need to kickstart your programming journey and become a professional developer in no time.
For me personally, this is a recommended option that can deliver top-of-the-line performance, thanks to the latest M1 chips.
These bad boys are not only extremely potent but also exceptional in managing energy consumption. This means that as compared to traditional gaming laptops for coding, it can last much longer without any significant loss in performance.
Let's take a look at what other things the MacBook Air has to offer;
Top of the line Components
From design to all the way performance, the Apple MacBook Air is just exceptional. It features some premium pieces of hardware which you won't be able to find in cheap laptops for python programming.
It also comes with a 13inch cutting-edge retina display that brings the visuals to a whole new level. It can connect to one monitor at a time, which is awkward, but a single screen will be enough for the price tag.
This programming laptop under 1000 features 8GB of RAM, which is more than fine. Also, the screen size is a bit smaller in comparison to most MacBooks or laptops for a python developer.
But once you connect it to an external monitor, it's good to go. Even after opening a couple of intensive apps, MacBook Air won't crash as it's optimized.
The same could be said for the storage, which is adjusted at 256GB. With this laptop for python coding, you won't be running out of memory anytime soon.
Added Features
In regards to additional aspects, the MacBook Air has many of them. First and foremost, it gives you access to your existing apps without any complications. Now you can manage Adobe Creative Cloud or GoogleDrive directly through the Apple store.
Secondly, feel, and response-wise, it is just like any other MacBook on Amazon. The overall design is sleek, and it works perfectly with your given setup.
The fan noise is limited, and you won't be constantly affected by built-in heat. Again, this is a luxury laptop for programming students, so opt for it only if you have the bucks to spare!
| | |
| --- | --- |
|                   PROS |                      CONS |
| Best laptop to run Python if you're a Mac user | It can't be classified as a cheap laptop for python programming |
| Its Retina-eye display provides clarity | The IPS display is a bit on the shorter end |
| Super responsive keyboard |   |
Key Specifications
A laptop with 15.6″ FHD Display
Enabled with 256GB NVMe M.2 SSD for super-fast load times
Operates under a hexacore AMD Ryzen 5 processor @ 2.30GHz
WLED-backlit compatible screen with touchscreen support
A wide plethora of connecting ports, including a multi-format card reader
When it comes to low-range laptops for coding students, there aren't many models that can compete with the upcoming product on our review, the HP Envy 360.
This machine can deliver up to the standards no matter how tedious the given task is, and for Python-related workflows, it's good to go. Now it won't back any high-end features, so don't expect much from this laptop.
But given the price tag, any laptop for a python developer can be a letdown for most consumers.
2 in 1 Functionality
The HP Envy is a great pick for people wanting added versatility from their programming gear. This version supports 2 in 1 feature, which means you can use it as a regular laptop or portable tablet on the go.
There is no need to configure the setup, unlike many laptops for python coding, and you can get the desired results within no time. Other than programming, this functionality is a game-changer for many creative workflows.
So, that's a major plus you should expect with HP Envy.
The overall design is quite genuine, and there is subtle finishing near the bezels to give it a complete look.
It's also not that bulky and weighs just around 4.5lbs. You can carry it around like any other programming laptop under 1000.
Reasonable Hardware
The HP Envy is classified among laptops that offer reasonable specs at the backend. For once, it comes equipped with AMD's Ryzen 5 CPU with a max clock speed of 4.0GHz.
Its processing power is more than enough to handle strain related to Python tasks. This model in the HP 360 lineup also boasts eight gigs of high-bandwidth ram that will remain relevant for the years to come.
You will also get around 256GB of SSD storage, which is becoming a standard these days.
Some additional features of this cheap laptop for python programming include a high-resolution 15.6inch anti-glare display, a full HD integrated webcam with audible speakers, as well as a backlit keyboard.
There is even an option to connect multiple displays with the machine for added versatility.
| | |
| --- | --- |
|                   PROS |                      CONS |
| A lightweight laptop to run Python | There are several audio issues plaguing the laptop  |
| Solid keyboard with backlit support | Not a cheap laptop for game development |
| Premium AMD processor |   |
Key Specifications
Fully functional through i7 10

th

Gen CPU under exceptional speeds

16GB DDR4 memory makes it a premium laptop for coding and gaming
Powered by 80WH Lithium battery for maximum performance
Accompanied with 2560 x 1600p 17inch IPS display
If comfort is something you fancy, then this laptop for python coding is absolutely worth the purchase.
Ergonomics & Performance
Right off the bat, the LG gram 17 is a premium laptop to run Python with a sleek and intuitive design. It is constructed through a durable metal-alloy frame that is quite resilient compared to your traditional plastic body.
There is nothing flimsy about its configuration, and users with professional needs (like programming) will find it brilliantly built.
Besides a quality design, the LG gram 17 also features a couple of amazing specifications, making it stand out from the rest.
For instance, it boasts an 8th Gen i7 CPU that is powerful and thermally stable. Even at high clock speeds, the fan speed and core temperatures will be maintained, and as a programmer, you definitely want that.
In contrast to that, there is 16GB of system memory and 1TB of disk space to get you running in no time.
Premium Display & Varied Ports
Now let's move to Display quality, which is preferably one of its best features. Surprisingly enough, it comes equipped with a 17inch IPS display that follows 2560 x 1600p in a single-plane switching panel.
In terms of color density and pixel accuracy, this screen is one of the best in the business. The coding lines you will be typing on it will be crystal clear with minimal strain on your eyes.
With this laptop for game development, you will get quite a lot of ports, including 3x USB Type C and an HDMI connection. There are even micro-SD card readers for programmers in need of some level of flexibility.
Nonetheless, the Lg Gram 17 is among the good laptops for computer science that is profound for its productivity and ease of use. 
| | |
| --- | --- |
|                   PROS |                      CONS |
| A must-consider laptop for coding and gaming | You cannot buy it as a programming laptop under 1000   |
| Premium & lightweight design | Its keyboard layout needs some attention |
| An amazing 17h battery-life |   |
Key Specifications
Powered by a Quad-Core i5 processor with superb turbo frequencies
16GB DDR4 based RAM that greatly minimizes workflow related stutters
Fully upgradable 512GB SSD disk space for storing immense Python libraries
A 15.6″ IPS LED display with anti-glare mechanics for a crystal-clear image
Like any other laptop for coding and gaming on our list, the Lenovo ThinkPad offers tons of reliability and a solid performance in Python-related projects.
This device is made specifically for developers who want to get the most out of their devices without much wear and tear in overall integrity.
With a sleek design and a premium battery life, the ThinkPad E15 is something you don't want to miss out on. Each model in the ThinkPad lineup is bound to deliver, and the E15 is no exception.
If quality is something you can't compromise, then this laptop to learn Python is ready to go!  
Design & Display
Simply put, this laptop for game development is just phenomenal. Its design is sleek, and the overall body is compact to fancy Python developers or any other like-minded individual.
Another thing to note about its ergonomics is its black metallic finishing and a beautiful-looking chassis. Lenovo specifically chose this color pattern in order to minimize wear and tear over the long run.
Whether your programming conditions are prone to drops or simply accidental spills, it won't let you down.
On top of having a unique design, the Lenovo ThinkPad E15 produces bright & vibrant visuals. It comes in a gorgeous 15.6inch FHD display at 1920x1080p resolution to even the vague line codes.
Its anti-glare feature will stand out no matter where you plug it in!
Specific Features
Being a minimalistic gaming laptop for programming, the ThinkPad E15 has some quality features that separate it from the competition.
For starters, it comes pre-installed with the latest Windows 10 Pro to offer maximum performance for Python programmers. There is a USB Type C connection as well for those who want a bit of flash in their accessories.
I personally like the fact that it runs under 10th gen Intel Processor. This CPU draws less power but at the same time delivers exceptional performance.
Conversely, you can use its Lithium powered functionality and get more than 10hours of battery timing. So, in the end, if you are searching for laptops for coding students, then getting the Lenovo ThinkPad E15 is seriously a no-brainer.
                 

PROS

                    

CONS

Solid machine for python programming and development
There are a couple of warranty issues with this laptop for coding and gaming
Performance-driven specs
The keyboard is not backlit compatible
Responsive keyboard and a quality finishing
 
Best Laptop for Python Programming Buying Guide
Choosing the ideal laptop to learn Python might not be as straightforward as one might expect. There is a lot to consider other than the design, use case, and budget.
To put your mind at ease in this area, I've compiled a shortlist of features to look for in your future Python programming machine. These are under as;
Hardware
1)   RAM
When looking for the best laptop for game development or Python programming, the number one thing you need to be cautious about is the amount of available ram.
Having a good amount of memory can go a long way, especially if you're indulging yourself in professional workflows.
So, if your machine has more than specified RAM, you will be able to do multi-tasking quite easily and archive your end results within no time.
Now the question you might be asking is, how much ram is enough for me? Well, Python programming isn't that system-intensive, and 4GB of RAM is enough to run it on your OS.
I would still advise you to at the very least get 8GB RAM as it's ideal for beginners in 2021. Although if you're a professional with quite a bit of experience in the field, this limit could easily exceed 16GB, so don't go lower than that.  
2)   CPU
Followed by the system memory, the next thing you need to look for in good laptops for computer science is the processor or CPU class.
You may not realize, but your python programming depends entirely on the processor that you are using. That's why getting a powerful CPU is a no-brainer.
You need to make sure that the laptop for coding and gaming you are buying is fast and efficient.
The majority of gaming-oriented laptops are equipped with a high-end CPU, but their downside is that they consume too much power and thus generate much heat.
As a developer, this isn't an ideal scenario and should stay away from such models. On the general rule of thumb, the 10th gen i5 CPU is definitely a solid choice for programming laptops under 1000.
But if you still want to go for the i7 route, you can rightfully do that too!
3)   Storage
The next requirement in laptops for coding students is the amount & type of storage disk that is being used.
For Python programming or general coding, you will be tackling a vast number of data files and filtering through various records and folders over multiple software, which can take up quite a bit of space.
That's why you need an optimal amount of storage that is both fast and sufficient for the years to come.
Try to opt for at least 256GB of M.2 SSD that is readily available these days in the majority of programming laptops under 1000.
It would help if you also considered the upgradeability factor as many portable machines (such as MacBooks) come custom-built and can't be modified again.
4)   Display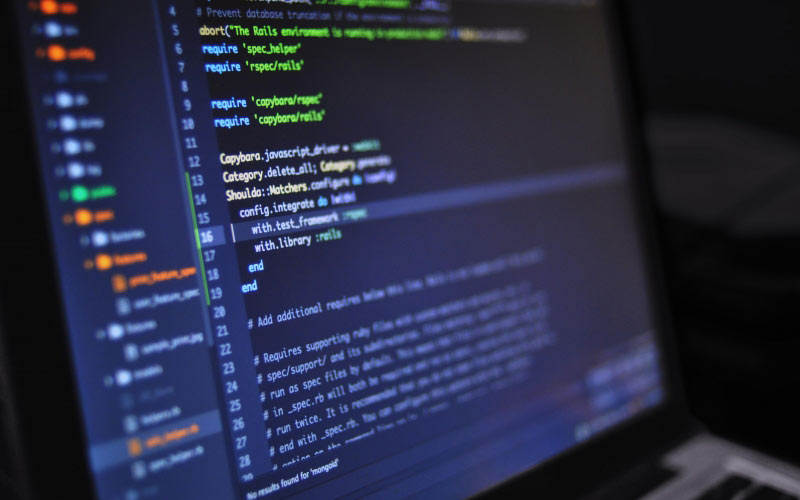 The best laptop for python coding is the one with a large display and quality visuals. As a programmer, you will be staring at the computer screen for most of your time; thus, why not spend extra bucks and get a laptop with a better screen?
For display, it is recommended that you go for 15-17inch screen sizes with at least a 1980x1080pixel rate. The screen should also be bright and clear and should be able to show the most amount of code without any scrolling or clicking.
Most professional programmers even buy external monitors so they can debug coding issues on a single go. So, if the price isn't an issue for you, then this option is also on the table.
Just don't spend tedious cash on 4K / retina monitors if your job is only to learn basic-level Python programming.
Peripherals & Others
1)   Keyboard
Another critical requirement for Python programmers is to have a comfortable and sleek keyboard. Trust me, coding day and night for long periods of time can be stressful, and without proper provisions, you could easily get hand strains or, even worse, an injury.
So, invest only in good laptops for computer science that have keyboards that are comfortable to type on and provide a reasonable response time.
I personally look for something with 1.2mm of key travel, but you can find a laptop which will suit your preference. Try out a bunch of options at your local store and figure out which combination works the best.
2)   Trackpad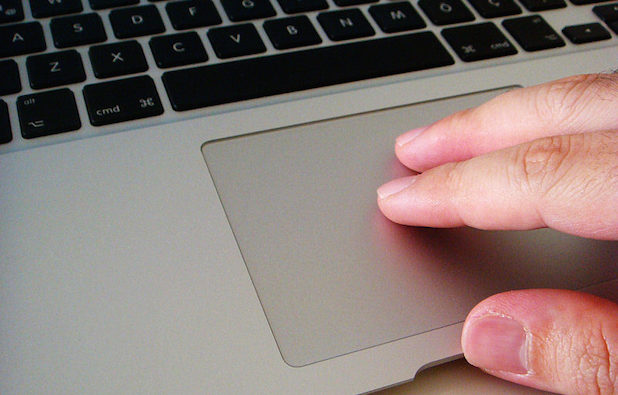 Having an amazing trackpad is another bonus in programming laptops, so don't discard it on your list of preferences.
Coders normally don't carry around responsive mice with them, so you need to get the most out of your project with the built-in trackpad. The laptop you choose for Python should have solid tracking, preferably from reputable manufacturers like HP or Dell.
With that being said, if carrying a mouse feels reasonable for you, it's better to invest in it as well.  
3)   Design & weight
Because portability is the most common reason for a software developer to select a laptop over a desktop, the device you choose should likewise reflect this trend.
You need to look for a laptop with strong hardware and a lightweight design that you can use in almost any situation. If it weighs more than 4.5lbs, then it's a straight-up red flag as it will feel a bit hefty to carry around.
Also, look for laptops for coding and gaming with USB Type-C adoption as they are easier to carry around and charge your device much rapidly.
Is MacOS the real deal for Python Programmers?
Nowadays, approximately less than 50% of developers use a Windows machine as their primary operating system, but why is that MacBook pro or Mac OS, in general, is more popular among python programmers and software developers.
Well, the answer resides in a number of factors, the first one being the user interface. As you may have guessed, the Windows user interface isn't really designed to accommodate the command-line interface.
What that means is that the built-in command line on Windows is a bit annoying to use and causes a bit of frustration for Python coders.
Most of the time, the fonts can be poorly rendered, and specific things like copy and pasting lines of code feel a bit clunky. It's not generally designed for non-technical users in mind, so that you may face some complications in the long run.
Also, Windows adds extra costs and barriers compared to a typical MacOS. In some cases, you have to pay the additional cost for software licenses, while for MacOS, this isn't the thing.
It has everything already built-in to it, so creative individuals like Python programmers can get the most out of their buck.
In addition to that, Apple's macOS has been featured on powerful engines like UNIX, so therefore it is more developer-friendly. When it comes to powering most of the world's file systems and servers, the OSX is a complete unit.
With macOS in hand, you will get a lot of stability, flexibility, and security. If you want to safeguard your progress from malicious software and get more done, it is generally a great alternative, which I absolutely recommend.
Conclusion
There is no doubt that Python is a renowned computer language that is being used throughout the world. If you search for the most used programming language, you can easily find it on top of almost every list.
The reason for its popularity lies in its ease of use and accessibility. It can carry out even the simplest commands and can understand the English language quite well.
With minimal fuss and effort, you will be able to develop software around it and stay ahead of the competition. Now choosing the best laptop for python programming can be stressful, and not everyone can make the right decision.
That's why I would advise you to do your own research in this regard as well and only follow your preferences and requirements.
FAQ's
Q1, Are gaming laptops ideal for Python Programming?
A gaming laptop is good for coding as long as it doesn't cost too much and provides the same performance level without any thermal inefficiency. You can learn more about it on a gaming laptop for programming Reddit forms or check out our detailed guide on Is A Gaming Laptop Good For Programming In 2021?
Q2, Can I use hp omen 15 for programming?
HP's latest Omen 15 is a great gaming laptop for coding. It offers solid specs with a premium design that won't disappoint.